How to Save Energy on Christmas Light Installation for Your Ann Arbor Home or Business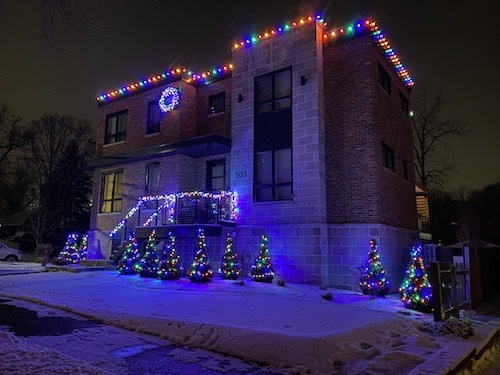 How do you make sure you're saving energy on Christmas light installations? Many homeowners want to have beautiful Christmas lights on their home, but don't want to waste energy. Here are some top considerations for homeowners when it comes to installing Christmas lights on their home:
installing Christmas lights for a beautiful holiday display without pushing the energy budget over the top.
finding help safely installing Christmas lights that are both beautiful and affordable.
taking the stress out of designing a holiday light display that's energy-efficient and runs at the desired times with no fuss.
Did you know that LED bulbs can be 80-90% more efficient than traditional incandescent bulbs? Plus, commercial-grade LED Christmas lights last up to 25 times as long as old-fashioned Christmas lights.
The holidays are busy to begin with. Here's how to make sure you design and install the perfect Christmas lights for your house without wasting energy.
How to Design Energy-Saving Christmas Light Installations
We can help you design an energy-saving Christmas light display from the ground up, with savings in mind, and make sure it's still beautiful. As you consider what you'd like to create for your magical holiday light display this year, you might want to consider the following:
Do you have a favorite color or theme you want to stick with? Sketch an idea down on paper, or bring us a photo of a past Christmas light installation with your ideas so we can work with you to create the perfect decoration to suit your home.
If you have a budget for energy you want to spend on Christmas lights, please let us know, and we'll design around your needs! It's that simple.
Love the look of classic Christmas lights, but want to do something new and fun with your design this year? We can use LEDs, wreaths, and other unique lights to customize your design using energy-efficient bulbs for a modern look that's one of a kind.
Would you like a pattern of light changing, synced music, or to program your lights to come on at certain times? These days, practically anything you can dream we can make happen with programmed light displays.
Write down your ideal experience for your Christmas light installation. How long would you like your lights to be up? When would you like them removed? Do you have more than one idea for the holiday season? We can take those ideas and make them come to life.
Working with all of your ideas, Delights can work with you to come up with the perfect Christmas light decorations for your home. Then, leave the rest up to us!
How to Save Energy on Christmas Light Installations
You have all these great ideas, but now you might be concerned how much energy that's going to use over the holiday season. Did you know that Christmas lights can be energy efficient and still look extravagant? Modern Christmas light installations work with the most energy efficient types of lighting without sacrificing beauty, so your budget goes a lot further. Here are some tips to save extra energy when installing Christmas lights on your home for the holidays:
Install your lights on a timer or program them to display at certain times. No need for your lights to be running all day if you forget to turn them off. You can install lights to turn on when it's dark, or only when you want them to display.
Choose energy-efficient bulbs. LEDs can save you tons of energy and money on Christmas lights.
Design your Christmas light display for maximum impact. Put lights around rooflines, on porch pillars, trees and garden shrubs in front of your home for a look that's designed just for your home. By putting lights where they have the greatest effect, you can make the most of your energy budget.
Questions to Ask When Choosing a Christmas Light Installation Service
If you want some help installing your Christmas lights, that's understandable. Installing Christmas lights can create an opportunity for injury or home damage, and that's no fun around the holidays. At Delights, we're fully insured and well trained in roof installations to minimize the chance for injury, and only use professional equipment and mounting accessories. Here are some questions you might ask a Christmas light installation service to make sure they're the right choice for you:
Are you a licensed and insured professional light installation company?
How can I save money and energy on my Christmas light installations?
Do you use energy-efficient bulbs?
Can I put my lights on a timer to save energy?
Will you help me design the right Christmas light installation for my home?
How long do the lights stay up, and how do I make sure they're removed in a timely fashion?
Professional light installation should be fun, easy, and full service. We can't wait to see the beautiful Christmas light installations we design together for your home to come alive. Please call us for a free consultation with your questions about Christmas light installations and energy savings.