History of Christmas Lights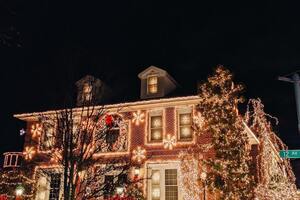 When you were a child, did you ever lie under your Christmas tree and gaze up at the lights?
Now, as an adult, do you take drives to look at the Christmas lights in your neighborhood?
Twinkling, glowing Christmas lights help bring magic to the holiday season. They're a tradition going back to the first known lighting of candles on a Christmas tree hundreds of years ago.
The modern tradition of stringing Christmas lights on the tree and our homes still gives us such a sense of peace and joy during the season. And for some, a friendly sense of competition with the neighbors!
Have you ever wondered how Christmas lights became such an important Christmas tradition? As far as history knows, it all started on a cold winter's night in Germany:
The first Christmas lights were candles lit to represent the light of Jesus as far back as the late 1600s, in Germany. Of course, they had to be blown out quickly for safety!
In 1882, Edward Johnson who was a partner of Thomas Edison, put electric bulbs on a Christmas tree for the first time.
By 1890, strings of lights were available for purchase, but were too expensive for most families.
In 1895, President Grover Cleveland put electric lights on the White House Christmas tree for the first time.
By 1900, department stores were lighting their holiday displays with electric Christmas lights.
In 1903, General Electric sold the first Christmas light kits.
In 1927, the first safe outdoor lights were used.
The 1930s saw novelty lights like icicles become available and Christmas lights had become a popular tradition.
In the 1940s, bubbling lights became popular.
In the 1950s, space-age aluminum trees that could not be used with lights became popular, devastating the Christmas lights industry in America.
From the 1970s to today, innovation made lights more affordable, accessible, and energy-efficient.
Today's Christmas lights come in every color of the rainbow, on separate strings or all together. Lights are available with or without music, blinking in different patterns, and in all different shapes and sizes.
There are so many options, creating endless opportunities to decorate to your personal taste. But, as beautiful as Christmas lights are, decorating your home can be time-consuming and dangerous if you need to get on the roof.
Professional Christmas Lights Installers in Ann Arbor
If you want your home to look joyful and welcoming for the holidays but don't have the time or don't want to climb a ladder in the snow, Delights can help.
Whatever your style or needs, our team can help design your holiday light display, install it, and remove and store it until next year. We also offer 24hr service if your installation encounters any problems.
If you're looking for professional Christmas lights installers in Ann Arbor, call us for a consultation at 734-417-2212 or contact us through the website.