Prepare For the Holidays With the Pros!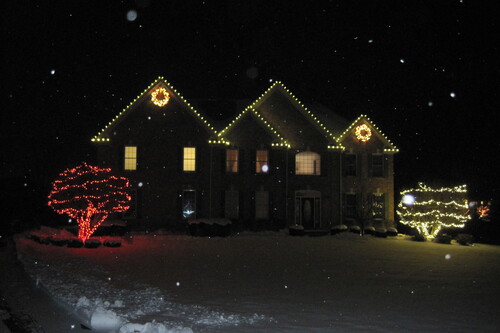 Are you counting down the days until you can set up your holiday display?
The holiday season is a time of celebration when the warm glow of festive lights decorates homes and businesses. As the holiday spirit takes hold, many of us look forward to decorating our spaces with dazzling displays of lights.
While you may choose to take on this task yourself, here are just a few benefits of working with the pros!
1. Safety First
Holiday lighting installation can be a potentially hazardous chore, especially when dealing with elevated areas, electrical connections, and inclement weather conditions. Trained professionals have the knowledge and experience to handle installations safely.
2. Convenience
The holidays can be a busy time, with various preparations and gatherings to organize. Installing holiday lights, amidst the hustle and bustle, can be a time-consuming and challenging task! By opting for professional light installers, you can save valuable time and energy.
3. The Perfect Product Selection
Professional light installers not only have the expertise to create stunning lighting displays but also have access to a wide range of high-quality lighting products. The pros stay up-to-date with the latest trends and technologies to ensure that your holiday decorations will be both timeless and captivating.
4. Guaranteed Warranty and Maintenance
Investing in professional holiday lighting services comes with the added advantage of warranties and maintenance. Should any issues arise with the installed lights, the professionals will promptly address and resolve them, saving you from any unnecessary stress or expenses.
You Can't Beat the Convenience of a Professional Lighting Installation in Ann Arbor
This year, consider giving yourself the gift of a professionally decorated holiday display.
Sit back, relax, and let the professionals take care of your lighting installation in Ann Arbor. Illuminate your home or business with holiday magic. Let the pros take care of the lights so you can focus on what truly matters.
Contact our team at (734)417-2212 to schedule your consultation!