Tips to Plan Your Holiday Lighting Display!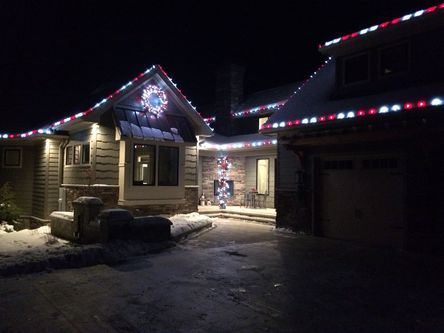 Have you ever struggled with planning outdoor lighting for the holidays? Excited to light things up for the holidays, but not sure how to make your home look its best? Are you looking for ideas to plan your holiday lights this year?
Putting up outdoor lights around the holidays can be a great way to show your spirit and liven up your house, but it can be intimidating! You want to make a big impact without spending too much money or spending too much time outside with frozen fingers.
Making a plan and being prepared with a few tips from residential Christmas light installers could be the key to making your holiday lighting a success this year. Check out our tips below:
1. Get Sketchy
A great planning tip for a stellar light display is to make a sketch of your ideas. Start with a rough sketch of your house and landscaping, and make choices for lighting types and placements that will make the most impact. Using a sketch will help save you from guesswork and can potentially be a real time saver!
Location Considerations
Don't find yourself outside ready to go only to plug in lights and realize half the string is out! Check all your lights inside before you go out. When hanging lights outside, avoid trees near power lines. And if you have a multi-story house, be prepared to hang some lights up pretty high for a good balance.
The Right Outlet
You want your lights plugged into a ground fault circuit interrupter (GFCI) to prevent the risk of overcurrent and to minimize fire hazards. If you don't have GFCIs outside, an electrician can install one for you, or you can pick up a portable outdoor outlet.
Extensions
Not all extension cords are suitable for use with your holiday lighting. Make sure you use an extension cord rated for outdoor use and choose a color that will blend in. You don't want construction-zone-orange making an appearance in your December lighting scheme!
More Gear
Besides your outlets and extension cords, get set up with all the gear you're likely to need. You probably want a stable ladder or step ladder, insulated holders or plastic clips to secure lights, and blackout caps if you think you'll use one string across more than one window or bush.
Easier Lights
Beyond the tried and true string lights we all know and love, there are options that can make your job easier. Net lighting consists of small LED lights attached to mesh and can be used over bushes and shrubs. Shimmer spheres are another easy, impactful option. Essentially a mass of lights in a sphere or other shapes, these decorations can be hung from trees or other spots in the yard for a festive look you don't have to work too hard for.
Residential Christmas Light Installers in Ann Arbor - Call Today!
It's a festive season, but that doesn't mean planning should go out the window! With these tips to help your outdoor light planning, your house is sure to make an impression this year.
If you have questions about planning your holiday lights this year, give our residential Christmas light installers in Ann Arbor a call today and allow us to light up your holiday season.