Tips to Boost Your Curb Appeal This Holiday Season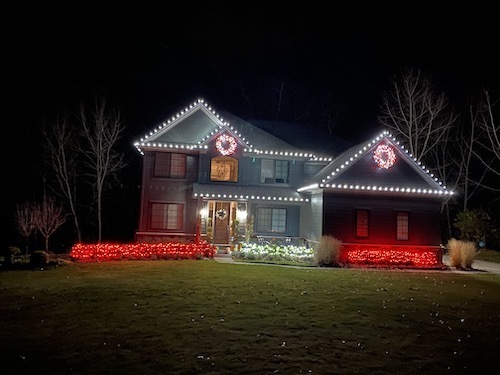 Want to boost your curb appeal this winter?
Are you looking to spread holiday cheer?
This year has been a rough one … to say the least. Make your holiday festive with a holiday light display to brighten your neighborhood with holiday cheer!
Start with the basics!
Your decorations can be simple or as elaborate as you want them. Some people just switch out their regular welcome mat for a holiday one, or put up a simple wreath and call it a day, but at Delights we go all out!
Get Festive with it!
Some people pick a theme. Some pick a particular color or holiday movie they like. To get some ideas, read "What Type of Christmas Tree Decorator Are You?" It may help inspire your outside decorating style as well!
Make Your Porch Pop!
Mix a combination of textures, shapes and complementary colors. A few strands of lights will sometimes beat out an overload of blinding colors, especially if it's tastefully done by professionals.
If your home is ready for Santa, don't forget the timer! Timers are a great way to sit back enjoy the lights without having to remember to turn them on every night.
Want the Most Festive Lights in Town?
We hang Christmas light in Ann Arbor and the surrounding areas of Plymouth, Canton, Brighton, Novi, Dexter, Chelsea, and Saline. We'll work with you on a design; you won't have to worry about installation, and we'll take down your decorations and provide storage until you're ready to put them up next year. Call our professional Christmas light installers in Ann Arbor today a complete design consultation. (734) 417-2212.
"Was looking for a company to install outdoor Christmas lights and Delights was recommended to me. I can say it was a delight to work with Steve and his group. He offered many suggestions for lights and they were all professionally installed. The put them up and took them down with perfect timing for the holidays. The house and tree were a hit in the neighborhood!"
Deborah, Google Review