How to Avoid Injuries While Hanging Christmas Lights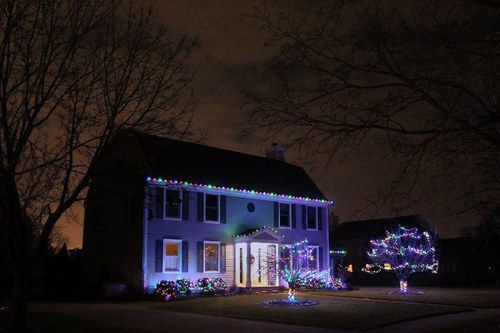 Hate hanging Christmas lights?
Do Christmas lights get you frustrated every year?
Do you hate climbing up a ladder?
The U.S. Consumer Product Safety Commission (CPSC) says hanging decorations is the leading cause of injury during the holidays. Stay safe this holiday season and use caution if you decide to climb and hang holiday lights!
According to Lifehacker, "It only takes a few feet to fall to suffer a concussion, break a bone, or tweak your back. To avoid injury:
Don't drink and decorate: Lay off the eggnog and save it for after the decorating.
Don't decorate alone: If something does happen, you want someone to be around to help you or call for help. Don't let your family member's decorate alone. Offer to help out, especially if they're elderly.
Check your ladder before you use it: Make sure none of the rungs are broken and that you don't exceed the recommended weight limit. Also make sure the rungs are dry before you climb.
Set your ladder up properly: Place the ladder on solid, even ground. Use the 4-to-1 rule: for every four feet of height you have to climb, move the base one foot away from the wall. And have someone hold it steady for you.
Keep kids safe on the ground: Kids will want to help you decorate, but they're better off handing you tools or holding the ladder."
If you decide hanging Christmas lights on your own isn't for you, contact professional Christmas light installers in Ann Arbor today!
What are the benefits to hiring professional Christmas light installers in Ann Arbor?
We're safe!
We're affordable!
We use the best technology!
We're trained!
We take the lights down for you at the end of the season!
We store them for you!
Hear from Real Customers!
"I called and received quotes from six Christmas lighting companies before choosing Delights. I'm so happy I did! Exceptional service, lights, and installation. Steve and his crew were top notch. They were able to fit everything into my chaotic schedule despite how busy they were in early December. My house looks phenomenal and I would highly recommend them!"
Chris P., Ann Arbor
"Enjoying Steve's work for the fourth year now. Delightful team to work with, down to each team member. Great flair for design, yet not overboard. Biggest impression is his follow up. The team stops by throughout the lighting season to make sure everything is working. I had not even noticed that the flood light that illuminates our nativity scene was out, but they did and replaced it mid-season. We would certainly recommend their services and enjoy all the many cars that stop before driving by just to enjoy the warmth our Christmas lights and Nativity scene bring. We're certainly delighted."
Kathy and Richard, Ann Arbor
"This was our second year with Delights. We could not be more satisfied. The lights are bright and beautiful and the service is impeccable. They proactively come out to inspect the lights after setting them up to ensure everything is working properly and looks perfect. I would recommend Delights to anyone and everyone."
Brian, Ann Arbor
No Hassle Professional Christmas Light Installers in Ann Arbor
We offer no hassle residential Christmas light installation service for the cities of Ann Arbor, Plymouth, Canton, Brighton, Dexter, Chelsea, Novi and Saline. Our professional Christmas light installers will work with you on a design; you won't have to worry about installation, and we'll take down your decorations and provide storage until you're ready to put them up next year. Call us today at (734) 417-2212 for a complete design consultation!