Why You Should Book Your Professional Christmas Lighting Early!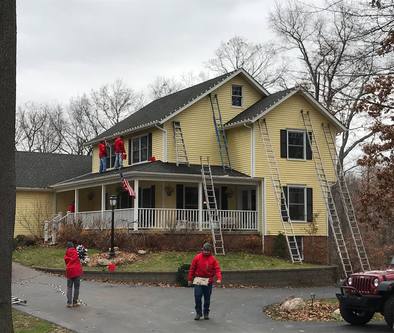 Looking for professional Christmas light installers?
Don't want to untangle last year's Christmas lights?
Having a hard time finding helpers around the house to assist you?
Book early! You don't want to miss your chance to have the best professional Christmas light installers booked up by the time you decide it's what you actually want – to hire a professional.
What are the benefits to hiring a professional service?
We're safe!
We're affordable!
We use the best technology!
We're trained!
We take the lights down for you at the end of the season!
We store them for you!
Hear From Real Customers!
"This year we surprised my parents by having lights installed on the outside of their home in Canton, Michigan. Steve was great in coordinating with me long distance to pull off the surprise (I live in Grand Rapids). My parents were overwhelmed with joy!

The lights are commercial grade and shine bright every night of the season! My folks live on a main road. Their friends, neighbors and those who pass by have all commented on how beautiful the display looks.

Steve's crew was safe, professional and installed the lights without disturbing any landscape. I'm excited to use their services year after year, as long as my parents are in their home."
Alisha, Grand Rapids
"Steve and his team did an amazing job on my house! Nothing gets you in the Christmas spirit like having your home decked before December even arrives! The Delights team was friendly, prompt, responsive, and organized. I appreciated everything about their customer service...not to mention the beautiful, giant wreath that his wife personally adds lights to. I had never used a professional decorating company before. Steve made me feel comfortable that I was going to be taken care of and end up with a beautifully decorated home. All of my neighbors complimented his work as well. THANK YOU DELIGHTS!"
Kecia, Ann Arbor
No Hassle Professional Christmas Light Installers in Ann Arbor
We offer no hassle residential Christmas light installation service for the cities of Ann Arbor, Plymouth, Canton, Brighton, Dexter, Chelsea, Novi and Saline. Our professional Christmas light installers will work with you on a design; you won't have to worry about installation, and we'll take down your decorations and provide storage until you're ready to put them up next year. Call us today at (734) 417-2212 for a complete design consultation!