Our Professionals Make Your Commercial Holiday Lighting Hassle-Free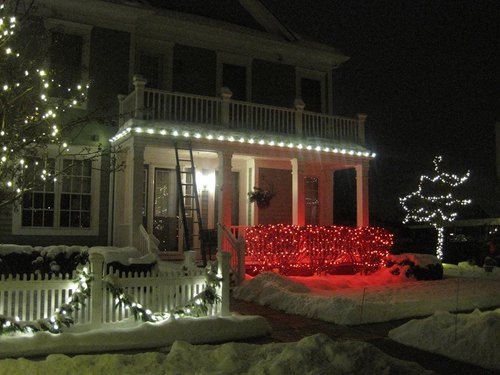 Want a stunning holiday display for your business, but don't want to put yourself or employees at risk? Love holiday lights, but not the mess and hassle that can go with them? Looking for an easy way to spruce up your business for the holidays?
Most of us know the struggle of managing holiday lights and decorations. From tangled strings, burnt out bulbs, clips that don't hold, icy temperatures, and lugging yourself up and down ladders, the hassle is not something you look forward to, no matter how much you appreciate the end result.
Imagine skipping all the hard work and just enjoying a beautiful holiday display at your business location! That's exactly what you get with commercial Christmas light installation in Ann Arbor. Professional installers take every ounce of hassle out of holiday lighting and leave you with a stunning display. The only thing you have to do is relax and enjoy it!
How commercial Christmas light installation makes your holiday hassle-free.
Full-Service: we're not just light-stringers. From design, to execution, to service, to clean-up, to storage, we can take care of everything for your commercial holiday lighting.
Fully Insured: have peace of mind knowing the pros working on your commercial holiday lighting are fully insured in case of any accidents.
Up-Front: you won't be surprised with any hidden costs from us! We strive to be open, honest, and affordable in our services and pricing.
Professional: our team is not only talented in decorating design and execution, they're trained in safety procedures and experienced.
Unlimited Design Options: safety concerns for you or your employees won't limit your decoration options. We can create whatever you imagine!
Detail Oriented: don't sweat the details when you trust your commercial holiday lighting to our team. We're invested in getting it right, down to the very last bulb.
Respect: we'll never damage your property or leave a mess behind.
24-Hour Service: your holiday display needs to look great even after business hours. That's why we're available 24-hours for your service needs.
Locally Owned: trusting your holiday lighting to us is an investment in the community!
Give yourself the gift of hassle-free commercial Christmas light installation in Ann Arbor.
Don't stress over your commercial holiday lighting this year, and don't stress over the decision to go pro! Give the experts at Delights Christmas Light Installation a call. We're ready to talk about your visions for a stunning commercial light display. Get your complete design consultation today!