7 Tips for Hiring a Professional Christmas light Installer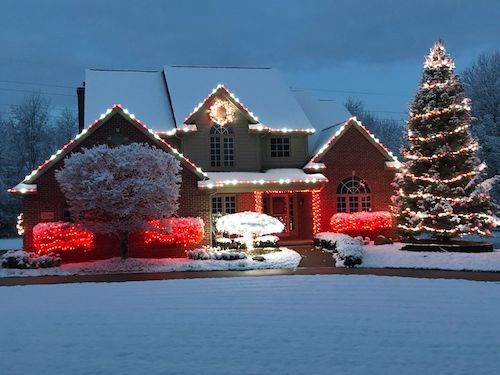 Do you hate the process of untangling your mess of holiday lights every year?
Thinking about hiring a professional Christmas light installer?
If you're tired of the hassle that comes with getting ready for the holidays – there's a simple solution: Delights! Hire a professional Christmas light installer to do it for you and know with 100% certainty that your home or business will look amazing.
If you're not comfortable hanging lights on your roof, then consider hiring a company to do the work for you! Climbing a ladder can be dangerous, especially if you're trying to hang lights in bad weather, trying to reach high peaks and navigating icy sidewalks. It can be treacherous! You want your home or business to look amazing. That takes a lot of time that you probably don't have to make everything look perfect. That's where we can help!
Know What You're Getting When You Hire Professionals!
Here are a few questions you should ask a potential installer so you know what you're getting:
How much is the installation?
Are they asking you to pay more than half up front?
Are they insured?
How do they source their lights?
Did you ask for references?
Is it a one-man operation?
What happens if you have problems after installation?
Full Service Holiday Décor at Delights!
Complete design consultation
Professional installation
24hr service
Locally owned
Affordable
Schedule Your Free Design Consultation Today with a Professional Christmas Light Installer!
Don't stress over your holiday lighting this year, and don't stress over the decision to go pro! Give yourself the gift of hassle-free Christmas light installation this year! We'll work with you on a design; you won't have to worry about installation, and we'll take down your decorations and provide storage until you're ready to put them up next year.
No need to write Santa, call the experts at Delights Christmas Light Installation! We're ready to talk about your vision for a stunning holiday light display. Get your complete design consultation today!