Avoiding Injuries While Hanging Christmas Lights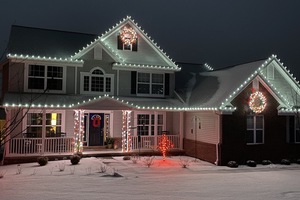 Looking forward to hanging your Christmas lights this season?
Want to make sure you and your family stay safe while decorating?
Follow these tips to make sure decorating season goes smoothly this Christmas:
Decorate with Someone
Making sure someone is around to assist you with the set-up will ensure a safer process, and they'll be able to provide help in case an injury occurs. Plus, extra help will cut your decorating time in half!
Make Sure Your Ladder is Safe to Use
Inspect your ladder before you use it – it may have not been used since last Christmas! Dry, fully intact rungs are what you're looking for.
Keep Your Kids on the Ground
Decorating for Christmas can be a great way to spend time with family, and your kids might be extra eager to help out. Just remember, they can help from the ground!
Don't Overcrowd Your Outlets
You probably have many lights to hang, but that doesn't mean they should all go into the same outlet. Too many plugs in one outlet can lead to a short circuit, causing a lot of unnecessary stress at the least, or a house fire at the worst!
Hire a Professional!
Xmas Delights is your premier residential Christmas lights installer in Michigan. If you're worried about the set-up of your lights, give us a call today!
Looking for Professional Lighting Installation in Ann Arbor?
Don't stress over your holiday lighting this year, and don't stress over the decision to go pro! Give yourself the gift of hassle-free Christmas light installation! We'll work with you on a design; you won't have to worry about installation, and we'll take down your decorations and provide storage until you're ready to put them up next year.
No need to write Santa, call the experts at Delights Christmas Light Installation for your lighting installation in Ann Arbor! We're ready to talk about your vision for a stunning holiday light display. Get your complete design consultation today!